Bailey Hird wins
The Union held the Junior Strokeplay Championship at Cookridge Hall Golf Club. The competition attracted 49 competitors who competed for a number of prizes as well as The Copier Company Ltd Junior Order of Merit Round 1.
Home Club member Bailey Hird continued his recent fine form to card a level par 72, beating young Joshua Berry (Selby) by virtue of a better back 9 score of 33 to win the W H Fenton Trophy.
Bailey also won the best nett of the day (67) to win the Headingley Trophy from Tom Tindell (Wike Ridge). Bailey duly earned 100 Order of Merit points for the best gross and the best nett.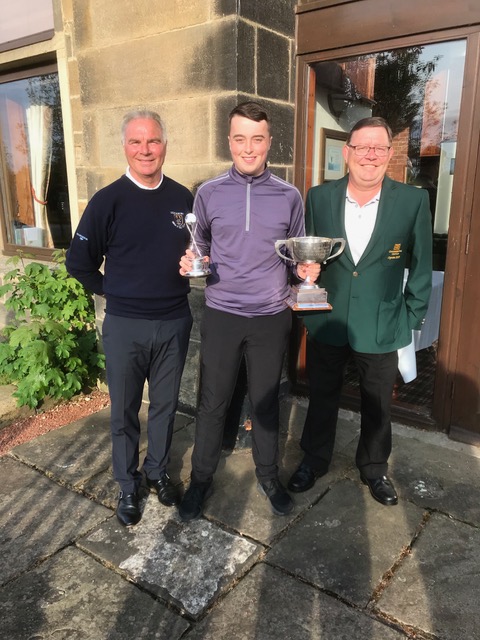 Bailey with is 2 trophies pictured with Union President Elect, Geoff Mortimer and Cookridge Hall Captain, Andrew Furness
Tom did win the Judy Raynor Trophy for the best nett score for an Under 15 competitor.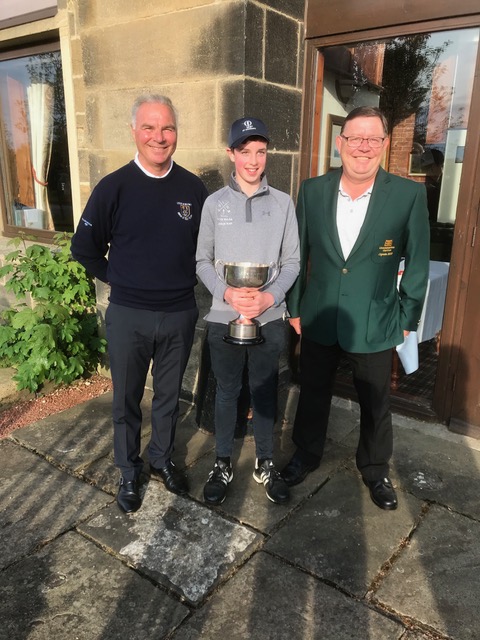 Also in the prizes were:
Best Nett (handicap up to 15) Josh Frontal (Cookridge Hall) 68
runner up Regan Grey (Oulton Hall) 69
Best Nett (handicap 16 and over) Rory Cobb (Wike Ridge) 69
runner up Oliver Maundrill (Oulton Hall) 72
The top 16 gross scores qualify for the Junior Matchplay Championship that runs during the season, with the final being held on Finals day, 25th August 2019.