Leeds Children's Charity.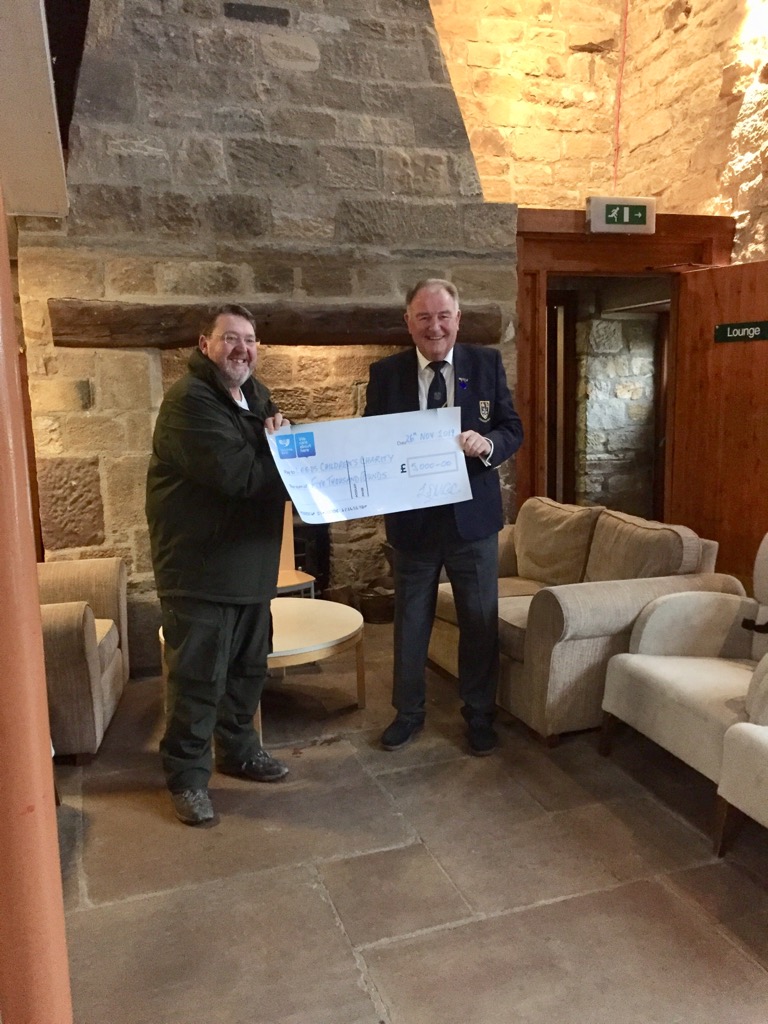 President Mike Gallagher presenting £5,000 - which the Union raised in 2019 - to The Leeds Children's Charity organiser Dave Norman MBE.
Through generous donations from Leeds Union Clubs and 80 enthusiastic Leeds golfers £3,000 was raised at the annual Christmas Alliance hosted by Scarcroft Golf Club. 20 teams contested a 4 Man Team competition on a perfect winter golfing morning after coffee and hearty bacon sandwiches. Winners on the day were Alan Pearson & Brian Stephenson (Howley Hall G C) with John Beevers & Bernard Duffy (Pontefract & District G C) with a score of 88 points.
After golf an excellent Christmas dinner was served to players and guests with a warm welcome from the Scarcroft Captain, Ross Knapman and Union President Mike Gallagher.
A raffle and auction of golf vouchers provided by Union clubs helped to swell the contribution and we thank the players present for their support. As usual the prizes on the day for the raffle and golf were supplied by player contributions of festive bottles of Wines and Spirits.
We wish all our Clubs and their members a very happy Christmas and a prosperous new year.
Below is a letter from Dave Norman to the Union
Hello, the Leeds & District Union of Golf Clubs has been supporting Leeds Children's Charity for many years. On behalf of the charity I would like to take this opportunity to say thank you.
Delivery – the charity delivers free respite to young people from Leeds. The young people are aged between 7 and 11 and are backgrounds of challenge and disadvantage. All the young people we support are referred into Delivery of our work used to take place at Silverdale in the Lake District.
Changes – for the last two years the charity has been in merger discussions with the Lineham Farm children's Trust. The aim, to merge both charities into one, a new charity that will be called, Leeds Children's Charity at Lineham Farm. Lineham Farm is in Leeds and offers access to fields, woods and all manner of activities including: abseiling; mountain biking; climbing; orienteering; bush craft; 'trust' based challenges; animal care and worked linked to nature and the use of the natural habitat with young people. The merger will be finalised shortly.
The future – the delivery of free respite will continue but because of the access the charity will have to activities, will be much improved. In addition, income generating possibilities at Lineham are much improved and as such, the charity will be able to organise events that will generate important income.
Feedback – the following provide you with some feedback on our delivery. We do not claim any impact other than that provided by the young people, their carers or their schools.
Young people
Enjoyed: climbing; archery; everything, especially apples; very nice beds – I had one to myself; food – everything; stream walk; counting scores in archery; treasure hunt; so different to my normal life – it was great; stories around the campfire. Meeting new friends; climbing; games night; archery; learning new things; really good to get away; Jacobs ladder.

What was your time with the charity like? Incredible, very, very good; amazing, I enjoyed everything; fantastic; imaginative; awesome; whoop - whoop; magical; jaw dropping; fandabydozey; thrilling; superfun; actioned packed; exciting; astonishing; a great place to have fun; can I come again please?; staff were brilliant; safe and warm; a very enjoyable experience.
Adults – "Hi Dave, I picked the children up from Gipton Fire Station yesterday teatime, they were smiling, tired and could not stop talking about what a fantastic time they had, had. It was lovely to see them excited to talk about their experiences and smiles. Niamh over the moon that she had been allowed to drive the boat herself, and Rosin doing so well at archery, Joel loved searching for sweets in the wood and a real-life fire. Millie said she would give it 100 out if 10. Thank you so much and can you please pass on my thanks to the staff". Jayne Harris. Therapist
"I can only echo Jayne's comments and thanks for all staff who made the two days possible. The children from Castleton had such a memorable experience which they will use to their advantage in the future. It was great to see them in action on the boat and even the weather helped out. The work done by you all is invaluable........ long make it continue". Alistair. Head teacher.
"Leeds Children's Charity offers something that we cannot – the opportunity for children to 'get away' from the oppressive circumstances that they find themselves in and show them a viable alternative." Head teacher.
"In every case the children have come back enthusing about the experiences they have had. If I had not received this positive feedback, I would not have recommended children each year. Parents also have been very grateful that their children have been able to benefit from a holiday, when they could not afford to send them. I have seen the benefits of the work you have been doing and I really hope that they can continue to provide this excellent facility for children in need." Head teacher.
And finally – for all sorts of reasons, Lineham Farm is not open to the public. But, should you wish to visit the farm and see in more detail how we work with and support young people, just contact me on Leeds 01113 – 3783941.
Best wishes and once again, thank you for your continued and very valuable support.

DAVE NORMAN MBE
Leeds Children's Charity at Lineham Farm.