Leeds Strokeplay Championship held at Wike Ridge Golf Club.
On a perfect golfing day the Scratch and Nett Strokeplay Championships were played over 18 holes on the impressive Wike Ridge Golf Course on the 31st May 2018. Due to what seems to be a declining interest in playing 36 hole competitions the Executive decided to reduce the Scratch Strokeplay Championship to an 18 hole contest for the first time since its inception in the hope of a good entry. At the same time the Nett Strokeplay Championship was merged with the Scratch event with all entrants having a chance of winning the Trophies and prizes on offer.
Whilst the final entry of 60 players was below our expectations the competition was keen and enjoyed by all and we hope that the format will draw more players next year.
As expected the three leading players finished in the first three places in the Scratch event with Dan Bradbury (+1) (Wakefield), beating the current Amateur Matchplay Champion
Ben Sardo (Scr) (Moor Allerton) on the best back 9 holes 34 against 37 after they both carded two under par scores of 70. Tom North (Scr)(Howley Hall) finished one stroke behind with 71 to take third place. Dan was presented with the John Keightley Trophy.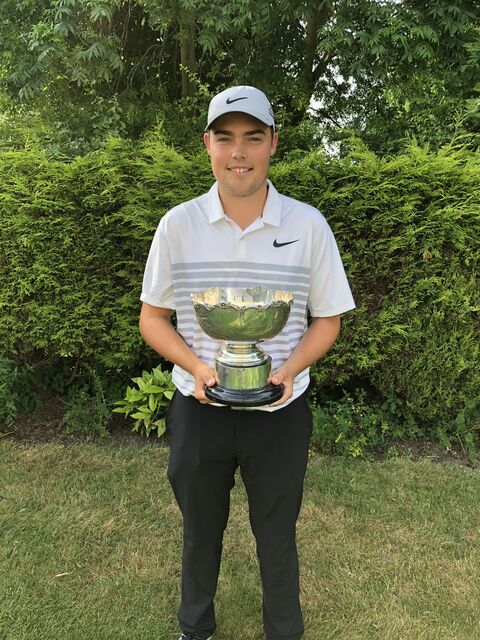 The Nett Championship was won by Scarcroft player Russell Young (15) who recorded the lowest nett score of 69 (B9-32.5) in a card play-off with Stuart Nice (8) (B9-35)Waterton Park and Billy Snowden (9) (B9-35.5) Moortown who also scored 69.
Only 4 strokes separated the leading 15 players and this is the second time that Russell has won the John Robshaw Trophy which was presented to him by the Prseident Charlie Brown.