Welcome
The Union exists to further the best interests of golf and to provide opportunities for discussing matters of common interest amongst the 28 Clubs in the Union. Here are the Union Rules LDUGC Rules
The Union arranges a series of Leagues during the year, providing opportunities for golfers to compete at scratch, nett (handicap up to 12) and junior level. It also arranges and runs a series of championships and knockout competitions as well as team events for Associate Members of the Union. Lifetime Associate Membership costs £30.
Click HERE to become an Associate Member
A MESSAGE FROM THE PRESIDENT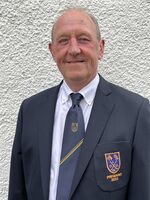 It is a great honour to be elected President of the Leeds & District Union for both me and my club Horsforth in 2023 and I look forward to representing the 28 clubs at all Events this coming year. I would particularly like to thank the Leeds Union Vice Presidents and Executive members for nominating me for this prestigious position.
Having played golf for over 50 years and represented the Senior Union Team on numerous occasions I look forward to supporting both the Union Senior and Junior teams as they compete in the YIDU Leagues and Team Championships against the seven Yorkshire District Unions.
As you may be aware our Union organises many competitions and championships including the very competitive Scratch, Net, Junior League and Knockout matches.
The number of Associate Members continues to grow to participate in the eight dedicated events in the season.
The Union Executive Committee work tirelessly on our member clubs behalf to fulfil the main Union Objectives:
a) To further the best interests of golf and provide opportunities for discussing matters of common interest amongst the clubs in the Union.
b) To arrange Competitions and Team matches which we all thank them for.
I very much look forward to meeting many members of our clubs over the coming year I will do my very best to support and promote these objectives.
We all hope for good weather, good golf and good fellowship in 2023.
Simon Lax