Junior Team Championship
The Union held its Junior Team Championship at a sunny Headingley on 30 May. Teams of 3 with the best 2 gross scores to count batlled it out for the Marshall Bellow Trophy. Garforth's team of Jake Wallis, Sam Curnow, and Joshua Gill carded a very respectable 153 to beat Moortown 1 by 2 strokes, helped by a brilliant score of 69 from the in form Jake.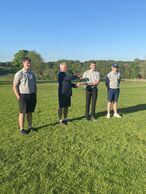 Jake's golf was so good that his nearest competitor Oliver Cage (Moortown) was 9 strokes behind him. Pictured is Jake receving his prize from Union President Geoff Mortimer.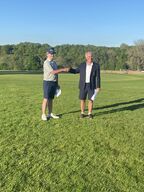 In the nett competition the Howley Hall team of Ben Waite, Oliver Strang, and Edward Thompson scored 141 to beat Horsforth by 2 strokes. Edward recorded the lowest nett score of 62, 6 strokes ahead of the field. Pictured is Edward receiving his prize from Union President Geoff Mortimer,